Flex 60RC.BXR Right Corner Fireplace Insert
Upgrade any corner, and warm up your space with class.
Designed for single room installation, the Right Corner Fireplace Insert features two open sides. The transparent glass on the right corner enables the flame to be viewed from the front and the right corner, providing interior designers, homeowners, architects and builders with the freedom to customise their fire solution to suit a floor plan.
The Flex 60RC.BXR comes with a Decorative Box on the right-hand side. The design is fitted with a glass panel that divides the box and the Firebox and creates an attractive streamlined look. Instantly transform any wall into a feature, indoors or out, with a stylish, clean-lined Flex Firebox.
The XL700 burner delivers a captivating linear flame. With a 1.8 gallons capacity, this elongated ethanol burner has the power to heat up to 538ft2, making it ideal for residential and smaller commercial/hospitality spaces.
Efficiency is a key feature of this burner, delivering up to 12 hours of heat generating flame from a single refill.
O-TL Listed in accordance with UL 1370.
Configure & Buy
Buy online and get it delivered to your door.
Key Features
Application
Indoor or outdoor single room application. With two open side, view the flame from the left and the front.
Colours
Available in black, firebox comes with stainless steel burners and decorative Black Glass Charcoal.
No gas or electricity
No gas, no electricity, no chimney, no venting or external vent cap. 4 fewer General Contractors.
Clean burning
All the fuel is housed within Flex's self-contained burner so you don't have to run a gas line or electric wires through your walls. And because e-NRG Bioethanol is clean burning, you don't need a flue or a chimney
Zero clearance
Self-contained, zero clearance construction allows your Flex fireplace to be framed into wood or metal studs, providing installation freedom and flexibility for builders.
Quick and easy assembly
Requiring virtually no assembly, Flex Fireboxes are designed to be placed into the desired location, safely secured into position, and operated immediately.
Rust proof
Zinc sealed steel construction powder coated with super hi-temp black paint prevents rusting so all fireplaces can be used both indoors or outdoors.
Luxurious finish
Available in a timeless black finish, Flex Fireboxes come with stainless steel burners and black glass charcoal.
Decorative side box
Includes one decorative side box to fill with your chosen noncombustible accessory.
Optional log sets
Eye-catching accessory for the decorative side box. Made from stainless steel with a patina finish, they are available in two different finishes: Brass or Copper.
Wind screen
Included integrated windscreen sits flush behind frame.
Tested world-wide
Our collection has been thoroughly tested against a number of global standards and is O-TL Listed in accordance with UL 1370 in the USA, certified in accordance with EN16647 in Europe and the UK, and satisfies the ACCC Safety Mandate for Australia.
Technical Specifications
Construction
Weight

192lb [87.10kg]

Model Dimensions

in [mm]

W 65.6in [1667mm]

D 14.4in [365mm]

H 31.8in [807mm]

Viewing Area

in [mm]

W 61.7in [1567mm]

D 13.4in [340mm]

H 19.8in [502mm]

Materials

Mild Steel & Toughened Glass

Colours
Accessories
Includes everything you need to easily operate and protect your investment for many years to come.
Fuel Efficiency
Thermal Output
13650 BTU/h
4 kW 14.50 MJ/h
* These values are indicative only and may vary depending on the model purchased, installation environment, and the composition of the e-NRG bioethanol sourced in each country.
Where do I buy ethanol fuel for my ethanol fireplace?
e-NRG is the only bioethanol fuel recommended for your ethanol fireplace. e-NRG has been produced for the lowest odor, most vibrant flame, and longest burn time on the market. e-NRG has undergone rigorous third party testing with all EcoSmart Fire ethanol fireplaces. Use of any other fuel may damage your unit and void your warranty. You can purchase e-NRG ethanol fuel at e-nrg.com for fast and free shipping.
Do ethanol fireplaces smell?
All heating appliances have their own smell be it gas, wood or electric - ethanol fireplaces are no different. e-NRG ethanol fuel is made of fermented plants like sugarcane or corn and is essentially a liquid alcohol. To safely make "de-natured" and unfit for consumption, substances have been added. The burning of these substances may cause a slight smell upon initial lighting and when the flame is extinguished – similar to when you blow out a candle. e-NRG ethanol fuel is the only fuel recommended for your EcoSmart Fire ethanol fireplace. e-NRG ethanol fuel has the lowest odor and longest burn time on the market. The nice thing about using ethanol is that it's not dry like gas or smokey like wood.
How to install a TV or AV equipment above an ethanol fireplace?
This design can be achieved as long as the TV is protected. You have 3 possible solutions:
Solution 1: The TV needs a non-combustible mantel/ledge to act as a heat shield
Solution 2: The TV needs to be recessed in a niche
Solution 3: The TV needs to sit back off the level of the flame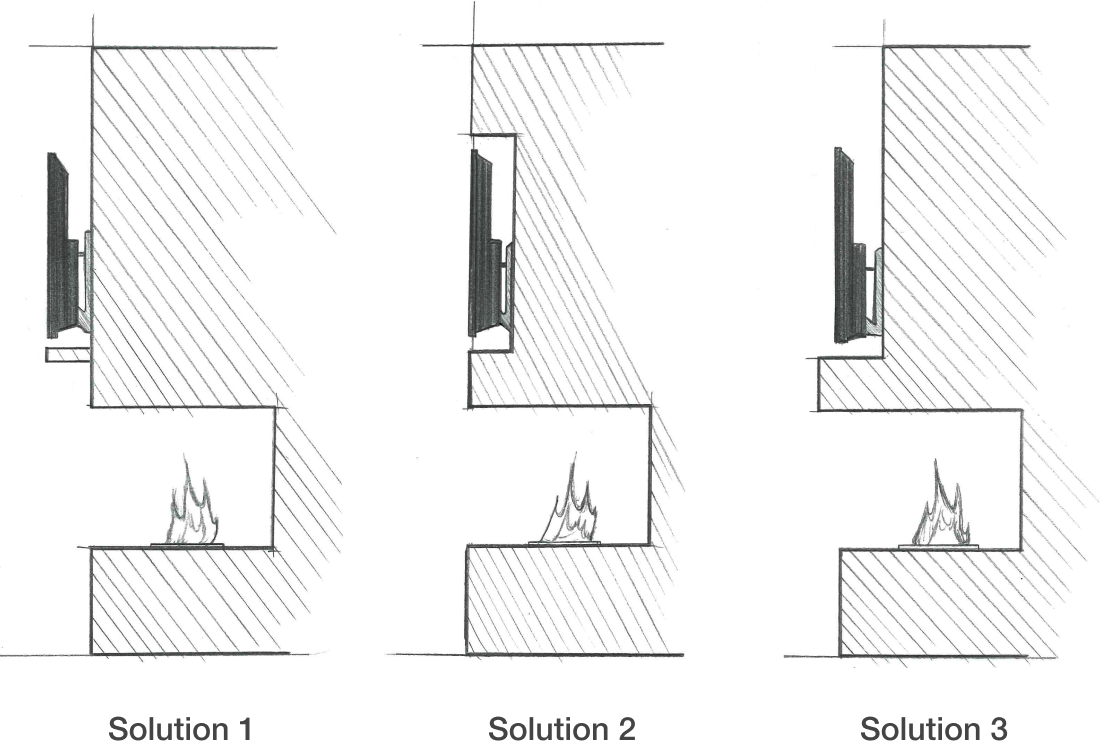 How long does it take to assemble?
There is virtually no assembly. Our Freestanding and Fireplace Grates ranges are designed to be placed into the desired location, secured into position, and operated immediately. Our Fireplace Inserts are designed to slot into place, secured and built around with your preferred finish – again a quick and easy installation – so your builder or interior designer will love you!
The longest part of the setup process is trying to figure out where you want to place it – be sure it complies with our clearance requirements particularly with regard to moving objects like curtains, tree branches and so forth.
What maintenance is required for ethanol fireplaces?
Clean your EcoSmart Fire unit after you have used 50 liters [13.20 Gal.] of fuel or as soon as you notice black deposits on or near the burner of the ethanol fireplace. Black marks can be removed from the stone, solid surfaces or stainless steel with a mild abrasive washing product such as JIF or similar. It is recommended to test a small area first to ensure the cleaning product chosen is appropriate and will not mark or damage the surface. Burners can be washed as required in hot soapy water (even in your dishwasher) from time to time and the internal mechanics won't deteriorate like some other brands as all internal parts are stainless steel.
Are ethanol fireplaces good for the environment?
EcoSmart Fire's ethanol fireplace burners and fireplace inserts, when paired with our e-NRG bioethanol fuel are clean burning with the only byproduct being heat, steam and carbon dioxide (the same stuff we exhale). Unlike gas fireplace inserts and wood burning fireplace inserts, EcoSmart Fire's ethanol fireplaces do not produce messy pollutants like soot, smoke, and ash.
How does an ethanol fireplace work?
EcoSmart Fire's ethanol fireplaces are self-contained, burning bioethanol fuel that is housed within the stainless steel container. A flame regulator controls and stabilizes the flame. With a designated filling area, and easy shut off mechanism, you can ignite the flame and turn it off in a matter of seconds. View this quick demonstration video to help illustrate the process.
Are EcoSmart Fires easy to install?
EcoSmart Fires are designed to be easily installed and operated. Without the need for a flue or pipe connection, EcoSmart Fires are extremely flexible and can be incorporated at any stage of your interior decorating, renovating or building works. For detailed specifications please contact your local distributor.