Mix 600 Fire Pit Bowl
Crafted in the outdoor 'fire pit' style but with many unique differences, the all-weather MIX 600 (little "sister" of the MIX 800) will be the centre of attention at every gathering. The circular design evokes the much-loved tradition of bringing people together around an open fire on a starry night. Equally at home in a true alfresco setting or contemporary outdoor room, the simple, elegant shape and flickering flame will instantly vamp up any architectural environment.
Colours: Natural, Graphite or Bone
Fuel: Bioethanol
The Mix 600 is a manufacturer approved surround for the UL Listed AB3 burner.
Key Features
Aesthetics and Endurance
Constructed from hardwearing, weather-resistant, lightweight concrete composite.
Easily Personalised
To personalise the appearancee, simply add your chosen fire-rated decorative media to the platform surrounding the ethanol burner.
Perfectly Positioned
Whether a pool deck or patio, open space or outdoor room, MIX Fire Bowls instantly enhance the atmosphere, creating a distinctive design feature.
Minimum Fuss
Delivering the ambience of an open fire – but minus the mess, odour, sparks and soot due to the clean-burning, eco-friendly e-NRG bioethanol.
Earthy Tones
Available in three concrete hues – Natural, Graphite, and Bone.
Dual Options
MIX Fire Bowls are available in two sizes – the smaller MIX 600 (with AB3 Burner) and larger MIX 850 (AB8 Burner).
Fluid™ Concrete Technology NEW
Our proprietary technology offers a streamlined yet sophisticated system that delivers exceptionally robust, handcrafted products. Learn More
Tested World Wide
Our collection has been thoroughly tested against a number of global standards and are UL Listed in the USA, Certified for EU and UK in accordance with EN16647, and satisfy the ACCC Safety Mandate for Australia.
Inspiration
How this model has been incorporated into
other people's designs.
Specifications
Find technical information about this product. If you can't
find what you need, please contact our team.
Compatible Burners:
Our burners are engineered to offer industry leading burn times,
a stable flame pattern and will last a lifetime.
*These values are indicative only and may vary depending on the model purchased, installation environment, and the composition of the e-NRG bioethanol sourced in each country.
Construction
Weight

51.59lb [23.40kg]

Model Dimensions

in [mm]

L 23.6 [600]

W 23.6 [600]

H 9.3 [235]

Application

Indoor & Outdoor

Materials

Concrete Composite, Stainless Steel Grade 304

Colours

Comes with Black Glass Charcoal as decorative media.
Packaging
Mix 600 AB3
Shipping Weight 55.12lb [25kg]
Packaging Dimensions in [mm] L 29.3 [744] W 29.3 [744] H 18 [458]
CBF 8.95ft3
Type Carton
Shipping Weight 13.67lb [6.2kg]
Packaging Dimensions in [mm] L 22.2 [563] W 15.4 [390] H 8.6 [218]
CBF 1.69ft3
Type Carton
Accessories
This model comes with accessories to ensure the safe operation, including:
Fire Lighter
Lighting Rod
Jerry Can 1.25 Gal
Butane
Black Glass Charcoal
e-NRG Bottle Adapter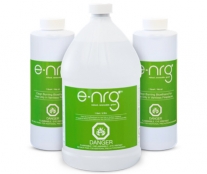 The Best Fuel
Fire up your ethanol fire with the highest quality, cleanest burning bioethanol available.
Best Flame

Burning bioethanol fuel creates a beautiful orange
flame that is simply mesmerising.

Clean Burning

Lose the chimney and the flue and keep the
heat in - no smoke, no soot, no ash.

Lowest Odour

Specifically formulated for use in ventless
ethanol fires - your comfort first.

Longest Burning Time

Tested against a multitude of formulas to ensure
it burns for the longest time.

Order Online

The convenience of efficient
delivery to your door.

Flame Arrester

Our bottles are fitted with a flame arrester
which makes it the safest available.
We absolutely love our EcoSmart fire pit
Model: Mix 600
There is nothing better than sitting around the fire pit on warm summer evening with our family and friends. It has become our end of the night activity on most nights, all summer long! This past winter in Chicago has...more
★ ★ ★ ★ ★
Aaron R.
6/5/20